Logiciel Coral Point Count with Excel Extensions (CPCe) Version 4.1
Version « assemblages coralligènes »
(CPCe 4.1 Coralligenous Assemblages Version)
Présentation
Le programme CPCe (Coral Point Count with Excel extensions) a été initialement développé par le National Coral Reef Institute. C'est un logiciel pour Windows (pour PC seulement) fournissant un outil de détermination du pourcentage de couverture d'espèces à l'aide de transects photos. Un nombre déterminé de points aléatoires sont distribués sur l'image et les espèces se trouvant dessous sont identifiées par l'utilisateur. Des statistiques de couverture sont ensuite calculées et les résultats sont automatiquement disponibles dans un fichier Excel.
De plus, CPCe peut être utilisé pour la calibration d'images et l'analyse de surfaces de caractéristiques benthiques. Des fichiers Excel sont automatiquement générés pour
résumer les calculs d'aires sur chaque image. Initialement développé pour les récifs coralliens, une version a été spécialement adaptée pour les assemblages coralligènes. Cette nouvelle version gratuite a été développée par Andromède et l'Institut national des récifs coralliens (USA) grâce au support de l'Agence de l'Eau Rhône Méditerranée Corse pour le suivi du coralligène de Méditerranée. Les informations concernant le téléchargement vous seront envoyées par E-mail après avoir complété le formulaire de demande de téléchargement disponible ci-dessous :
Formulaire de demande de téléchargement  à envoyer complété à julie.deter@andromede-ocean.com
J'ai compris que CPCe était gratuit pour un usage non commercial.

Nom*:……………………………Prénom*:………………………………………..…….
Organisation*:…………………………………………………………………..…………..
E-mail*:……………………………………………………………………….……
N° et rue:…………………………………………………………………………
Complément d'adresse:………………………………………………………………………….
Ville:……………………………. Etat/Province:…………………………………
Code:……………………………..Pays:………………………………
Comment avez vous connu cette version de CPCe ? …………………………………………………………
Une fois que vous aurez votre mot de passe, téléchargez CPCe 4.1 coralligenous assemblages version:http://www.nova.edu/ocean/cpce/downloads/andromede/
Présentation
Le programme CPCe (Coral Point Count with Excel extensions) a été développé par le National Coral Reef Institute. C'est un logiciel pour Windows (pour PC seulement) fournissant un outil de détermination du pourcentage de couverture d'espèces à l'aide de transects photos. Un nombre déterminé de points aléatoires sont distribués sur l'image et les espèces se trouvant dessous sont identifiées par l'utilisateur. Des statistiques de couverture sont ensuite calculées et les résultats sont automatiquement disponibles dans un fichier Excel.
De plus, CPCe peut être utilisé pour la calibration d'images et l'analyse de surfaces de caractéristiques benthiques. Des fichiers Excel sont automatiquement générés pour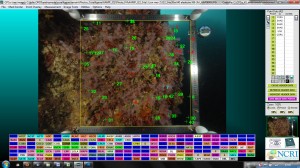 Plus d'information sur CPCe sur 
http://www.nova.edu/ocean/cpce/
Merci d'utiliser la citation suivante pour la literature utilisant CPCe: Kohler, K.E. and S.M. Gill, 2006. Coral Point Count with Excel extensions (CPCe): A Visual Basic program for the determination of coral and substrate coverage using random point count methodology. Computers and Geosciences, Vol. 32, No. 9, pp. 1259-1269, DOI:10.1016/j.cageo.2005.11.009.